We are delighted to announce the launch of new VeggieDent® FR3SH™ Dental Chews which now incorporate innovative FR3SH™ technology that targets the causes of halitosis in dogs in 3 ways – cleanses, cools and addresses digestive causes of bad breath.
VeggieDent® FR3SH™ Dental Chews provide significant daily breath improvement from Day 1 for a full 24 hours1, as well as continued breath improvement over a 2-week period. Ninety percent of owners highlighted an improvement in bad breath following use of the chews1.
Still offering the same benefits as traditional C.E.T.® VeggieDent® Tartar Control Chews for Dogs, including a proprietary Z-shape to maximise prehension, VeggieDent® FR3SH™ is scientifically proven to reduce calculus and plaque when given daily.2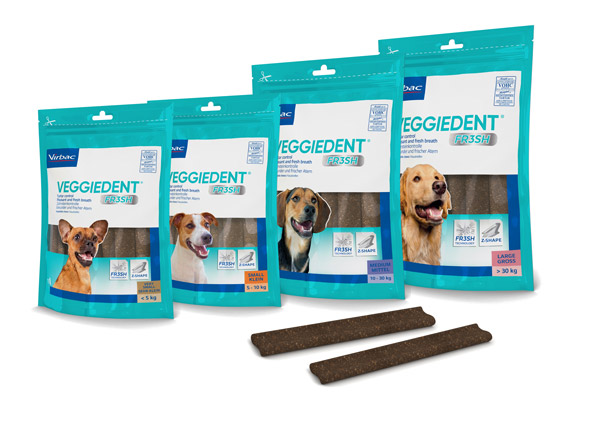 1. Chala V, Chaix G, Navarro C, Espuna G. Evaluation of breath freshening effect in dogs following chew administration: an open field trial. Voorsjaardagen congress, The Hague, NL, April 2018 (accepted for communication).
2. Clarke DE, Kelman M, Perkins N. Effectiveness of a vegetable dental chew on periodontal disease parameters in toy breed dogs. J Vet Dent. 2011;28(4):230–235.