We are pleased to announce that VeggieDent® FR3SH™ Dental Chews are now available in convenient, easy to unwrap, single chew packs.
Research has shown that 2 out of every 3 pet owners have at least one dog with bad breath1. VeggieDent® FR3SH™ singles reflect our ongoing commitment to rasie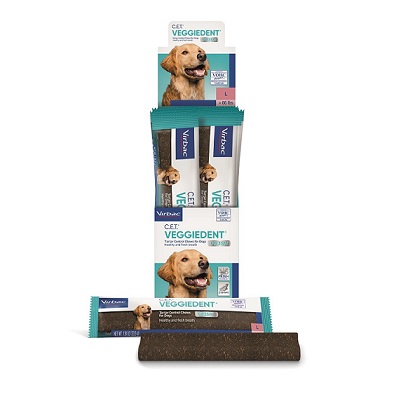 awareness of canine oral care amongst pet owners.
A natural, plant-based alternative to rawhide chews, VeggieDent® FR3SH™ targets the causes of halitosis in dogs in 3 ways; through addressing the underlying causes of bad breath, cleansing and cooling; whilst a proprietary Z-shape maximises prehension. VeggieDent® FR3SH™ Dental Chews are scientifically proven to reduce calculus and plaque when given daily2 and hold the VOHC tartar control seal.
"We are delighted to be able to add VeggieDent® FR3SH™ singles to the Virbac oral healthcare range" said Product Manager Claire Lewis. 'Single chews are a useful tool to help promote oral care and are a great addition to pets regular dental hygiene routines'.
Interested in VeggieDent® FR3SHTM? Speak to your vet today to find out more!
References:
1.Data on file, Kynetic market research, 2016. Virbac.
2.Clarke DE, Kelman M, Perkins N. Effectiveness of a vegetable dental chew on periodontal disease parameters in toy breed dogs. J Vet Dent. 2011;28(4):230–235.