Keep a close eye on any change in your dog's weight after neutering: weigh them at least twice a month. It is always easier to correct the situation at an early stage.
Weighing should always be done around the same time and on the same set of scales. The scales must be sensitive enough to measure a variation of 100g for a small dog. Do not hesitate to ask your vet practice if you can bring your dog regularly to the clinic to be weighed. If your dog's weight is increasing, even slowly but surely, ask your vet or vet nurse for some nutritional advice.
Remember, it's all relative! A small dog gaining 250g is the equivalent to a 70kg human putting on 3.5kg!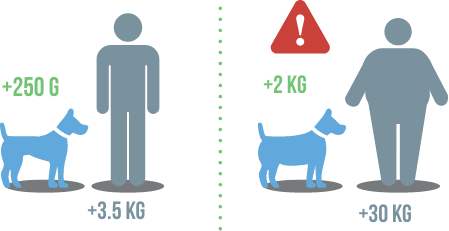 Also, a 2kg increase in bodyweight for a small dog represents a 40% increase of their overall weight! This would also mean that the dog has reached morbid obesity and could face life-threatening health issues.