We are pleased to support orangutan conservation efforts through the donation of essential veterinary supplies to Orangutan Veterinary Aid (OVAID), as the charity battles to help preserve these critically endangered animals who are facing significant threats to their existence from ongoing deforestation.
Founded in 2014 by veterinary surgeon Nigel Hicks and his wife Sara Fell Hicks, OVAID is a zero salary, voluntary run charity that provides veterinary equipment, medicines and practical veterinary assistance to orangutan conservation programmes in Indonesia and Malaysia.
'Having worked as a volunteer in orangutan rescue programmes since 2009, it was very apparent that vets were really struggling for supplies' said Nigel. 'We started to help with donations from friends, but it was clear that a more structured approach was needed, so we set up OVAID. Although we are a small charity, due to the wonderful generosity of companies like Virbac we are able to make a significant difference'.
Orangutans are the largest arboreal mammals in the world. They share 96.4% of their DNA with humans and are highly intelligent and gentle animals. Their biggest predator is man; the largest threat to orangutan habitat is the ever increasing demand for land for palm oil. Just 100 years ago there were more than 230,000 orangutans, but today populations are estimated at 104,700 for Bornean orangutans and 13,800 for Sumatran orangutans. A third species of orangutan, the Tapanuli orangutan, was identified in 2017 with no more than 800 surviving individuals, making it the most endangered of all great apes1. Rescued, rehabilitated, and released orangutans now represent a significant proportion of the surviving populations2.
'Virbac is honoured to be able to support the amazing veterinary teams working on the ground to secure a future for orangutans' said Andrew Connolly, Virbac's Marketing Director. 'We are delighted that Virbac products can play even the smallest of roles in helping to secure the survival of these species' he adds.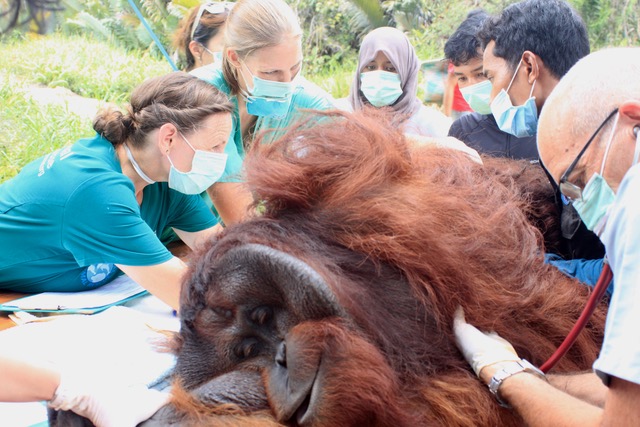 To support the work of Orangutan Veterinary Aid and for more information please click here
World Wide Fund for Nature (WWF) (2020).

www.worldwildlife.org/species/orangutan

Singleton, I., Wich, S., Husson, S., Stephens, S., Utami Atmoko, S. S., Leighton, M. & Byers, O. (2004). Orangutan population and habitat viability assessment: Final report. Apple Valley, MN: IUCN/SSC Conservation Breeding Specialist Group.