Proving that a quality product stands the test of time, Indorex - the UK's no. 1 household flea spray* from Virbac, has once again been voted by the readers of Your Dog Magazine as The Best Flea product for the Home 2018/19, making it an amazing run of 11 years as readers favourite! Your Cat readers also confirmed their continued approval for Indorex, giving the product their vote for the award for the 7th year running!
With 95% of any flea population living in the environment, and just 5% on the pet itself, the use of a good household flea spray is the only way to achieve total flea control. It's also worth remembering that thanks to central heating, our homes provide the perfect environment for fleas all year round. A proactive and integrated approach to flea control is the best way to protect our pets from these pesky parasites, with regular treatment for the pet and effective environmental control.
'We are of course delighted that Indorex continues to be the number one go to choice for pet owners' said Andrew Connolly, Head of Marketing - Companion Animals at Virbac. 'It's an amazing achievement for a product to win an award so many times, and we are delighted that the readers of Your Dog and Your Cat still rely on Indorex to provide flea control in their homes'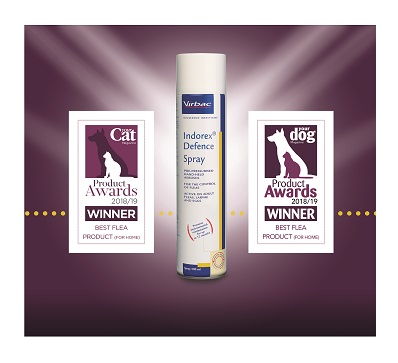 Virbac is a unique global, family run, company dedicated exclusively to animal health for over 50 years. Virbac offers a wide portfolio of innovative and award-winning products that combine quality, effectiveness and convenience for veterinary surgeons, nurses, and pet owners alike.